BY MADISON RAE | SQ ONLINE WRITER | SQ ONLINE (2017-18)
What do an indoor climbing gym, an equipment rental shop, an outdoor obstacle course, and guided trips into the wilderness have in common? They're all available to UC San Diego students, thanks to Outback Adventures. This organization provides students with innumerable opportunities to venture into the wilderness at a fraction of the price of an outside organization, on trips led by well-trained and dedicated guides – all of whom are fellow students and alumni.
Outback guides lead regular trips that occur all year – on weekends and spring break – as well as summer Wilderness Orientation (WO) trips. WO trips give incoming freshmen an opportunity to make friends and boost their confidence through outdoor activities in the local Southern California and Baja wilderness. These are longer trips, lasting five to nine days each, and occurring over summer, winter, and spring breaks. They allow for total immersion in the activities – surfing, kayaking, or backpacking, to name a few – and give participants a chance to learn safety and survival skills to use in future outdoor endeavors.

Outback's Outdoor Leadership Coordinator, Simon Teale, has been training guides with Outback for the past seven years. Previously, he worked with the outdoor education organization Outward Bound. He is in charge of training Outback Adventures guides, with a special focus on WO and lead guides, who facilitate trips. Guides are taught to "manage risk": essentially, keeping participants safe and engaged by offering educational challenges with "perceived risk, but no real consequences." This way, participants are challenged to get out and have an adventure in a way that does not put the environment or their personal safety at risk. According to Simon, while training guides to teach participants and handle equipment is not physically easy, it is the most enjoyable part of his job. Outside of training, he works with the university, State and National Park Services to negotiate resources for programs and access to locations, respectively.
All guides are trained in a set of guidelines that originated from National Park Services and have grown into a full organization: Leave No Trace. The most famous slogan from these guidelines is "take only pictures, leave only footprints." Simon describes the purpose of these guidelines as a mix of political and environmental; the ultimate goal is to maintain the environment and give those visiting the area after you the same experience you had. Outback Adventures brings back all trash from their trips, even things that may seem biodegradable, like an orange peel. He brings up the issue of landfills and their environmental impact and delayed decay of waste, but acknowledges that presently there are not better solutions that maintain the environment of these wild places.
Nils-Erik Rundquist, who graduated from UC San Diego in 2017, is one of the guides leading these trips. He joined Outback in his freshman year, and has become even more involved in the organization since. As a lead guide, not only does he ensure the safety of all participants, but also teaches proper health and safety practices for taking care of oneself in the wilderness, and Leave No Trace policies as well. Nils also explains that several of his practices and methods, especially in managing large groups, were taught by older and more experienced guides he has worked with in the past.

The level of interaction participants have with nature is directly related to the duration and type of trip. Some trips may be longer, Nils says, but could cover such distance that most of the trip is spent "in the van," meaning a scenic drive with stops for pictures, hikes, or camping. A one or two day backpacking trip is much shorter, but could be spent almost entirely on the trail. A backpacking trip is often the most "one on one with nature," and Nils recommends the various trips held over breaks from classes to have the most full experience. Ultimately, he and Simon hope that participants leave an Outback trip with newfound knowledge and confidence in their ability to explore the outdoors in the future, as well as awareness of Leave No Trace policies to ensure that others have similar experiences.
As he describes, the outdoor industry as a whole is often more environmentally friendly in their practices than the average person taking a trip on their own. This is because organizations like Outback Adventures are incredibly "conscious of their impact on the habitats they visit…and are self-motivated to preserve" those habitats for everyone to enjoy. Once UC San Diego students graduate, however, outdoor trip options outside of Outback may be more difficult to join. Nils recommends groups like Outward Bound, and warns that with the outdoor industry you often "get what you pay for." Simon compares Outback's eight-day Grand Canyon backpacking trip, which costs students $500, to the average price of $2,000 for the same trip from a non-Outback outdoor education or guiding service.
Outback offers significantly lower prices for trips than many other outdoor organizations, and going with a cheaper, non-Outback service may result in a less than pleasant experience. Nils advises that guides should always have medical training and any necessary certification (e.g. the guides for a rock climbing trip should have American Mountain Guides Association certification). And if a group advertises a chance to touch and/or feed wild animals in their own habitat, it is best to steer clear. Simon says that the United States does not currently have any nationally required certifications, so anyone could start up a service without being prepared to keep participants safe. He also advises that customers know what kind of experience they want before they decide on an organization; Outback and Outward Bound are outdoor education groups who focus on teaching participants skills for themselves – setting up tents, making food, etc. – while guiding groups will have staff who will do everything for their participants. Neither group is inherently better, says Simon, but his personal philosophy is that even on short trips, any time a participant is interested in helping, it is "a learning opportunity."
The Outback Climbing Center is located inside the Canyonview Aquatic Center and offers a free day pass to students once per quarter. The UCSD Challenge Course offers an intense team-building experience on the ground and in the air just east of the North Campus Recreation Area and the UC San Diego Softball Field. When an Outback trip is preparing to leave, currently you can find the guides and their equipment at the Outback Adventures Rental Shop and headquarters: hidden behind some trees in Warren College, at the intersection of Lyman and Artist's Lanes, near the Structural and Mechanical Engineering building.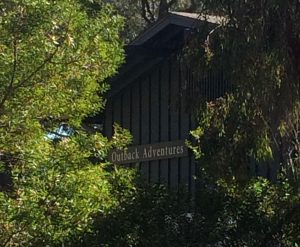 Simon wishes that outdoor education participants, especially Outback participants, would "express the value they receive" from trips to authorities that control funding. If the value of trips and groups like Outback could receive greater support and funding, they could offer even greater opportunities. Nils adds that with so many trips, there really is something for everyone with Outback, from total beginners to people experienced with the outdoors. He hopes that Outback Adventures becomes better known on campus, especially in the wake of the closing of the surf shop at Price Center in May 2017. The Outback facility location is not very visible to the student body, and the surf shop was the most well-known and conspicuous Outback icon.
In fact, the current Outback Headquarters was set to be demolished this summer, and a temporary location established near the Spanos Athletic Facility. However, within the past 2 weeks, Outback received a notice from the university that they must vacate the premises by April 1st, without a temporary location available until August 1st. This puts Outback's entire spring season at risk of cancellation. Outback Adventures has created an online form for the community to voice their concerns and support, and the comments will be viewed by campus leadership on Friday, February 16th. Now is the time to spread the word and support Outback, to preserve this treasure before it is gone. The form can be found here.
UPDATE: As of February 16, 2018, thanks to an outpouring of support from the UC San Diego community, and the hard work of Outback guides and employees, the university redacted their decision to demolish Outback Adventures Rental Shop and offices early. The demolition will occur after Spring Quarter 2018, allowing Outback's spring season to continue as planned, and they will move into their temporary space this summer. Learn more about Outback Adventures, and find the right trip for you here.
[hr gap="0″]
Sources:
https://recreation.ucsd.edu/programs/outback-adventures/
https://recreation.ucsd.edu/trips/wilderness-orientation/