By Areana Park | SQ Features Editor | SQ Online (2013-14)
To keep biology students informed and connected to our community, the Division of Biological Sciences (DoBS) created the Undergraduate Student Advisory Council (USAC). USAC was created by Dr. Gabriele Wienhausen, the Associate Dean for Education, to provide a forum for student feedback and advice.
Recently, Dr. Wienhausen shared with USAC that the Division's Education Committee, a divisional faculty committee that is a central point of contact for educational matters, had approved modifications to biology laboratory requirements. As it stands, all undergraduate biology majors are required to complete a minimum of two upper-division biology laboratory courses to meet graduation requirements. The Education Committee wanted to ensure that taking two upper-division biology laboratory courses would not bottleneck completion of major requirements so they expanded the acceptable range of biology laboratory course offerings to fulfill the requirement.
To ensure that more students will be able to complete their academic major requirements on time, the following modifications were made: Biology majors that were originally required to complete two specific biology laboratory courses are now allowed to complete one specific biology laboratory course (specific to each major) and one general biology laboratory course to be selected from any upper-division biology laboratory course offered by the Division of Biological Sciences. This change will increase the flexibility of the curriculum and give students the freedom to choose which biology laboratory class to take to fulfill their second laboratory requirement.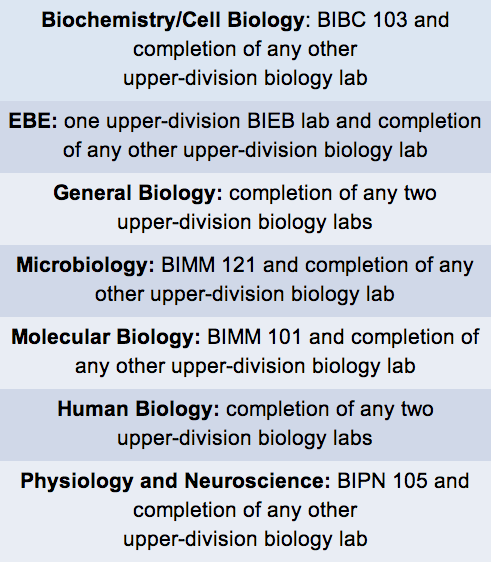 For more information or clarification, you can refer to the General Course Catalog or the main biology undergraduate site. You can also visit the Biology Undergraduate Student and Instructional Services (USIS) unit in 1128 Pacific Hall to see how this applies to your major. See the Division's advising site for advising times and availability.
If you have any concerns that you would like to voice to your USAC representatives, feel free to write an email to biousac-l@mailman.ucsd.edu.
[hr]
SQ Online recently sat down with Dr. Wienhausen, Associate Dean for Education, to talk about her background in biology and her passions for academia and student life at UC San Diego.