[lead]Arjune Nibber | Online Reporter | Saltman Quarterly 2016-2017[/lead]
For many students at UC San Diego with aspirations for careers in the sciences, the path to these professions can seem arduous, and the obstacles along the way are perceived as insurmountable. The anonymity that comes with studying at a large university, the process of applying to graduate programs, the struggle to find experience relating to the field – these are just some sources of anxiety for undergraduates striving to achieve their objectives. The undergraduate adventure therefore leaves many people with the impression that they are alone in their journey, or that their ambitions are simply impossible to reach. This is why it is important to hear from someone who has gone through the same ordeal and managed to conquer not only the dreams she set for herself but so much more. Dr. Brinda Rana, an associate professor and researcher in the UC San Diego School of Medicine, shares her insights on her journey, UC San Diego, and the undergraduate experience overall.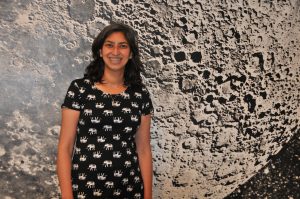 While Dr. Rana is currently conducting groundbreaking research at her lab in the Stein Research Center for Aging, she once was an undergraduate student in Revelle College, assuming a role many of us can relate to. Studying for her Bachelor of Arts in Mathematics, she took many of the same courses and graduate admission tests as we have (and can certainly relate to the struggles of the Revelle HUM sequence). After graduating with her degree from UC San Diego, she continued to pursue her education at the University of Illinois, Urbana-Champaign, receiving her Masters of Arts in Mathematics, and finally received her Ph.D from the Graduate School of Biomedical Sciences at the University of Texas, Houston. One of her research projects includes the famed twin study on the astronauts Scott and Mark Kelly, the one-of-a-kind study that analyzed the effects of space on the nervous system and vision. She returned to UC San Diego to pursue a joint psychiatry/genetics study, analyzing the genetic basis behind "positive aging", or the genetic factors behind why certain people don't fall victim to the array of age related diseases most of the population does. The jump from mathematics to biomedical sciences is unorthodox, but Dr. Rana says that this is exactly what education should look like. "I came to UC San Diego as a math major because I was good at it and it was fun. But another part of me was really interested in life science and animals. After taking the introductory genetics course (BICD 100), I realized my training in math made me understand genetics differently from everyone else." For the rest of her career, Dr. Rana continued to pursue projects and opportunities of the interdisciplinary nature, and encourages undergraduates to do the same, to not only give yourself unique qualifications you may one day cherish, but also to give yourself the well rounded education you deserve and the scientific community needs. This philosophy evidently worked for Dr. Rana, whose mathematics background was invaluable in statistical analyses and experimental design, making her a sought after professional in her field.
The reasoning behind Dr. Rana's broad range of experience and projects can be traced back to her favorite part of the research process: collaboration. She reflects on her time working with NASA on the astronaut project, and emphasizes the unique team spirit the experiment is characterized by. Through connecting researchers and scientists from universities and labs all across the country, NASA was able to generate ideas, studies, and inspirations no one person could come up with alone. Dr. Rana's favorite part of research also happens to be what she feels is the driving force behind coming up with phenomenal research projects. "A lot of research just comes from talking with your friends," she muses. She has the experience to back up her claim. When requested by the US Navy to genotype samples for a study analyzing the effects of stress on gene expression, Dr. Rana suggested the current approach would not get the results the US Navy was hoping for. "However, if you throw someone out of an airplane, that's when their gene expression will change" she says casually. After a few more conversations, Dr. Rana's suggestions became a dramatic reality: Samples were taken from skydivers before, during, and after descent through the air, to analyze how that major stressor affected gene expression. The study yielded significant results relating to changes in immune response, findings that never would have been published, without the collaborative efforts and imagination of Dr. Rana.
Drawing from her own experience at UC San Diego, Dr. Rana relates to the current undergraduate situation, and offers her insights into what the journey should be characterized by. She herself got her start in the biomedical community after applying for a job in her first quarter at UC San Diego, as an assistant in a genetics lab in Bonner Hall. She quickly began to work on other experiments and studies after making connections with her postdocs and professors. With this background, Dr. Rana would like the undergraduate community to understand the importance of taking risks. "Always take chances, and don't be afraid to fail. It's possible that you will, but all you have to do is pick yourself up and try again." Dr. Rana herself teaches a seminar once a year for undergraduates at the request of Revelle College, and often invites students to assist in research in her lab.
Dr. Rana's career path and academic choices thus far is distinguished by adventurous projects and incredibly unique experiences. For a lot of us, that is exactly what we hope to achieve from our education at UC San Diego. Which is why it is so important to internalize the advice she has for undergraduate hopefuls. It is perfectly fine to not take the conventional path to your goal, and your goals may even change along the way. But what we can't afford to compromise on are the things we are passionate about; pursue your ideas, and find ways to integrate your interests. The worst that could happen to you is you fail, and all you have to do after that is pick yourself up and try again. By doing so, you'll form meaningful connections with people who will take you further in your path. As we've seen through Dr. Rana, these are effective ways to not only succeed in your career, but also ways to create unbelievable science, and isn't that something we all want, if not need?