By Grace Sahayouni | UTS Staff Writer | SQ Online (2015-16)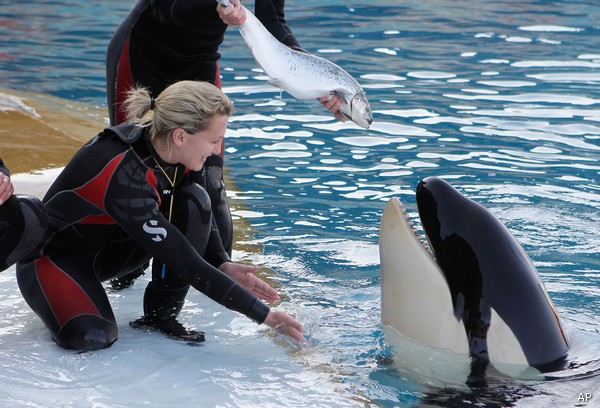 Shamu has gone from being SeaWorld's prized orca to being the face of the company's tainted reputation. The documentary "Blackfish", released in 2013, follows SeaWorld Orlando's orca, Tilikum, and his attack against his trainer, Dawn Brancheau. "Blackfish" plays with the audience's emotions by showcasing the aggressive behavior of the orcas as a result of their habitat being the size of large swimming pools. SeaWorld fired back by launching the "SeaWorld Cares" campaign in early 2015, consisting of commercials and online articles highlighting misconceptions and labeling "Blackfish" as propaganda used to advance the agenda of animal activists, rather than as a factual documentary. Although "Blackfish" and its supporters bring up valid points about the negative effects of animal captivity, the research being conducted on SeaWorld animals allows for a great deal of scientific advancements.
UC San Diego's Scripps Institution of Oceanography is conducting a heart-monitoring study on a 50-year-old killer whale at SeaWorld named Corky. With the use of a heart monitoring device, similar to the device that cardiologists use on human patients, researchers can measure and track "minimum and peak heart rates during sinus arrhythmia". Increases in heart rate during inhalation and decline during exhalation are valuable data that can be used to compare baseline rates in activities such as underwater swimming and diving. In addition, the devices will "record electrocardiograms on whales while they are in the water" which has only previously been conducted on bottlenose dolphins. This research would not have been possible without access to SeaWorld's animals. The theme park provided researcher Paul Ponganis the ability to adapt the heart rate monitor for a marine setting with the use of suction-cup electrode attachments. With the development of a reliable device, Ponganis can now continue his preliminary study with orcas and other animals in the wild.
Among all the controversy, the research Scripps is conducting demonstrates that animal captivity can serve a greater purpose than entertainment. In addition, news released in early November reports that SeaWorld plans to halt all orca live shows by 2017. The absence of outlandish tricks, such as backflips, and the end of SeaWorld's orca captivity may satisfy animal activists enough to allow researchers and organizations to continue their studies.