Seaweed: The New Local Delicacy
Packaged, pre-roasted seaweed has become an increasingly common occurrence while rummaging through the contents of a grocery store snack aisle. However, these seaweed snack packs are expensive and tend to come in wasteful, plastic packages. Let me introduce you to an alternative—collect some free, zero-waste, healthy seaweed while exploring La Jolla's local tide pools! According to recent studies, seaweed is one of the most sustainable food sources in the world, and we are privileged enough to have it at La Jolla Cove, right in our backyard. 
While the La Jolla tide pools are well-known for their beauty, they also house a variety of sustainable, nutritious, and edible seaweed! Some tasty, edible seaweed you can find in La Jolla cove are kombu (Laminaria setchellii), nori (Pyropia spp.), and sea lettuce (Ulva spp.). According to Healthline, the health benefits of seaweed consumption include improved thyroid function, since seaweed is rich in iodine, and digestive health. And while eating seaweed might seem strange at first, seaweed-derived substances, such as agar and carrageenan, are readily found in common grocery products, such as ice cream and deli meats.
Seaweed Abundance and Health Benefits
Seaweed is abundant in California, with 700 different species identified so far. Some edible seaweed in San Diego can be found in the rocky tide pools, such as Sunset Cliffs, Table Top Reef, Cardiff, Terramar Beach, and our very own La Jolla Cove. Seaweed foraging is instrumental in maintaining sustainable food sources, especially with the dramatic climate changes occurring globally. According to Sarah Mesnick, co-founder of Scripps Center for Marine Biodiversity and Conservation, it is important to diversify our food sources to include resources easily available to us. According to Scripps, since some species of kelp grow up to 10-24 inches per day, this renewable food source is not prone to overharvesting. 
Compared to land vegetables, seaweed is very nutritious. It is packed with more magnesium and minerals than lettuce, coining it the nickname "The Vegetable of the Sea". Like fish, seaweed is rich in omega-3 fatty acids, dietary fiber, amino acids, vitamins A, C and E and niacin, according to the Scripps Institute of Oceanography. As seaweed provides high concentrations of these nutrients, it is a great alternative to fish, dairy, and vitamin pills. Seaweed also has a strong umami flavor which makes it great for cooking and adding to savory dishes.
Local Seaweed Types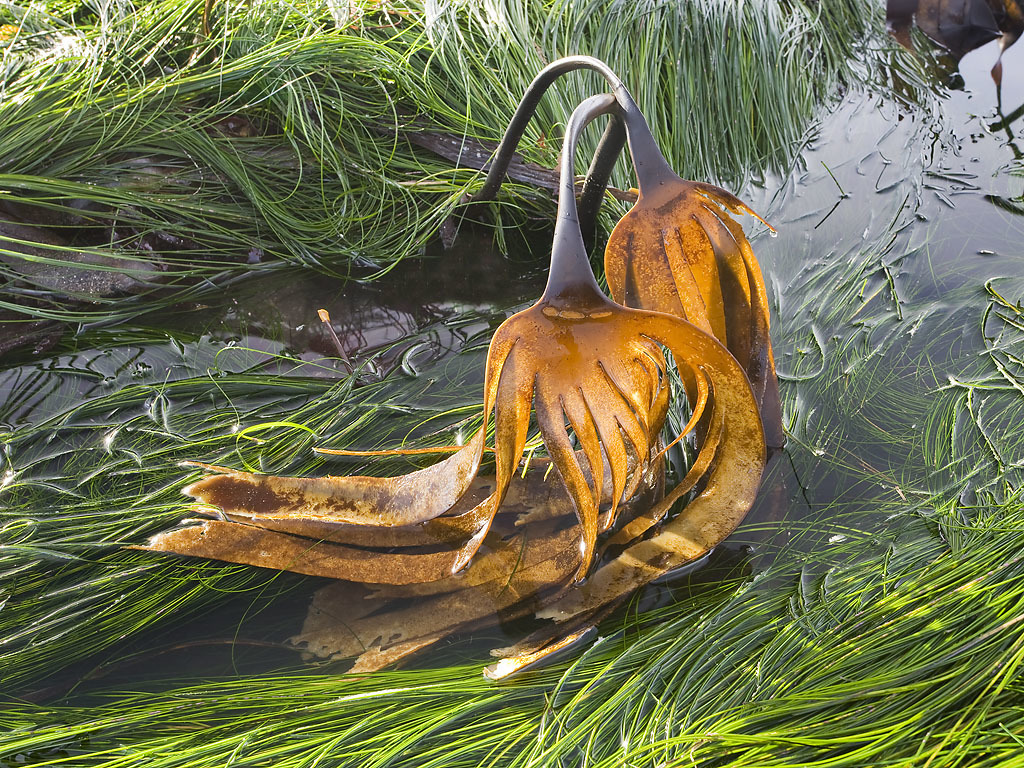 Kombu (Laminaria setchellii): Kombu is a type of kelp that belongs to the brown algae family. You can find kombu on rocks in both shallow and deep regions of tide pools, as well as in deeper, open waters off the coastline. Kombu has a thick, slippery texture and has stripe-like blades on its surface. Since this kelp has a tougher texture, it is best to soften it with cooking. Chopping it up into small pieces and adding it to soups like miso, curry, and noodles is a great way to incorporate kombu into dishes.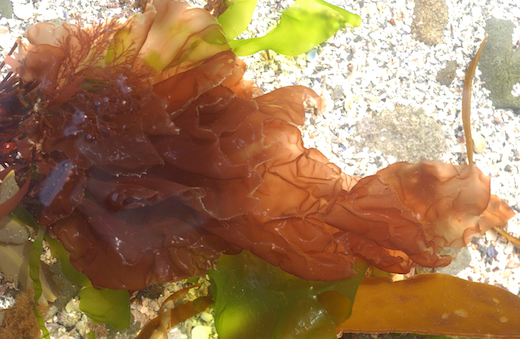 Nori (Pyropia species): Nori is a common, pre-packaged seaweed in stores and is the most popular species of seaweed to eat. You may also know of nori as seaweed paper snacks or sushi paper. This red algae is dark purple in color with hints of red that glisten in the water, making it easy to find in tidepools. Nori can be roasted by cutting seaweed sheets into squares, placing the squares on a large baking-paper lined oven tray, and lightly brushing them with sesame oil before roasting. Alternatively, batches of nori can be toasted on a large non-stick frying pan over medium-high heat until crisp. You can also add pieces of roasted nori into salt shakers for extra nutrients and flavor.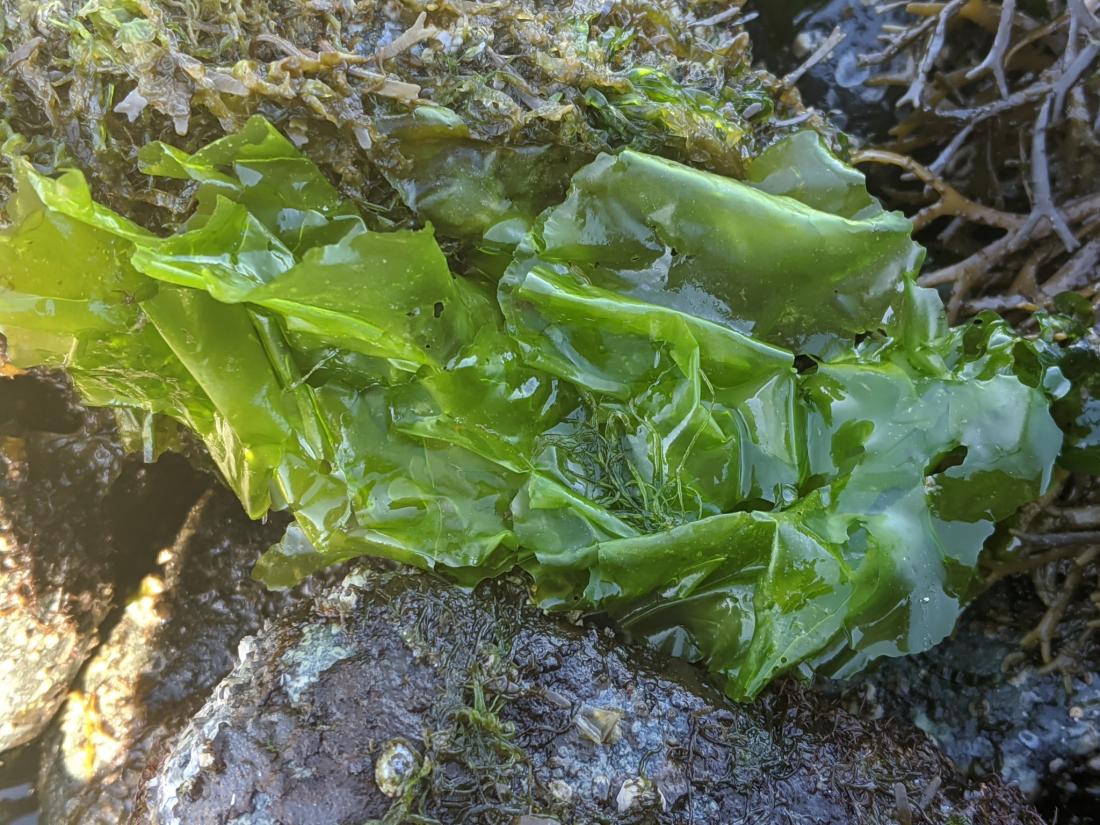 Sea Lettuce (Ulva species): This bright green lettuce is hard to miss. Growing in shallow tide pools, green algae can be used in soups, salads, dried fish and garnishes. Since it does not have a very strong taste, this thin, light, flowy seaweed can be cooked and added to almost anything—I often eat it raw or throw it in a salad!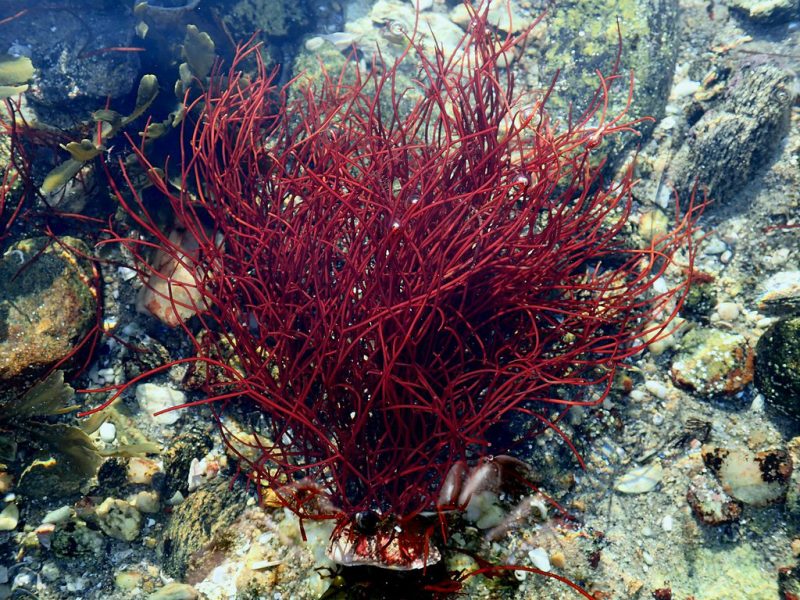 Ogo (Gracillaria): This red algae is shaped like a little bushel with long purplish-red strands. Ogo is also easy to find in intertidal pools and is often eaten raw or with rice and fish. It has a crunchy texture which could garnish any savory dish. Many Hawaiian dishes like poke contain Ogo. 
Harvesting Tips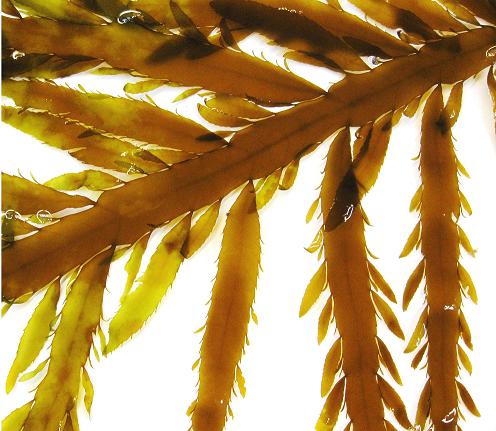 When harvesting seaweed, it is best to avoid pulling the whole seaweed from the tidepool; instead, you should cut off blades and leave the base to regrow.  Different tides and swells can also detach seaweed and leave it laying in the tidepools, ready to be eaten at any time of day. You may be wondering if eating seaweed could be dangerous and cause poisoning—without proper caution, it can. In San Diego there is a genus of brown algae called Desmarestia that is poisonous due to the high acid content. To avoid health risks, do not forage from areas where the water looks polluted or dirty. It is important to pay close attention to and leave behind the small invertebrates often found living on seaweed. Lastly, it is always key to give foraged seaweed a thorough rinse before eating.
Note: Be sure not to harvest seaweed in Marine Protected Areas, such as La Jolla Cove!
Sources