CALLUM ARRAS | BLOGGER | SQ ONLINE (2016-17)
Translational medicine–this term for healthcare was new to me as I approached the Telemedicine Building for the first time for a reason other than a turbo combo from Club Med. My immediate assumption was that the "translational" aspect pertained to the conversion of RNA to protein while the "medicinal" component sought to fix an error in that process. I was partially correct in this assumption, but my scope was too magnified (microscopy pun intended). Translational medicine seeks to "bridge the gap" between scientific discovery and practical application in healthcare. Similarly, the goal of Translational Medicine Day is to create bridges between leaders of research and medicine in the field with the next generation of students who are eager to make their impact early.
After receiving a warm welcome by several enthusiastic BMES volunteers, I began taking notes of the keynote speaker Dr. Parry Nisen, CEO of Sanford Burnham Prebys Medical Discovery Institute, and his talk about "Science Benefiting Patients". Dr. Nisen describes a "bench–bedside–bench" philosophy of tackling disease which has led him from R&D to creating novel drug approaches to becoming CEO of Sanford Burnham Prebys. A defining moment of the keynote was Dr. Nisen's description of his personal journey through healthcare. Nisen's interaction with children who suffered from cancer in particular stood out to me, as he relates, "I knew in my heart of hearts that my current laboratory research would have no immediate effect on patients in my lifetime … so I moved into pharma to gain leverage in creating viable treatment for people suffering today."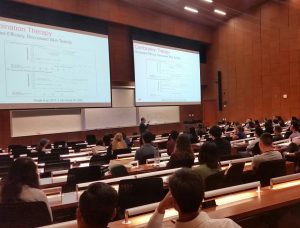 Another key point of Dr. Nisen's speech was target validation. Having worked in pharma for many years and now heading a premiere cancer research center, Dr. Nisen understands that scientists must be constantly testing and refining treatment. "The biology and science behind target validation must progress as we move forward as the story can really change," According to Dr. Nisen, this is why it is important for future doctors studying at UC San Diego to continue to innovate and act on their curiosities to induce positive change in medicine.
Undoubtedly the highlight of Translational Medicine Day for me was the Center for the Future of Surgery tour hosted by associate physician Jonathan Delong. Along with sharing his personal experiences in medicine and becoming a surgical student, Delong relayed much of the more pertinent details of learning and teaching within the surgical center such as practicing suturing on bananas and the nitty gritty details of the correct way of inserting endoscopes and performing endoscopies.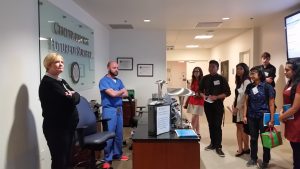 I would have never suspected that the sublevels of the Telemedicine building housed a state-of-the-art surgical training complex, complete with top-notch imaging technology, trained actors to act as patients, and comprehensive test specimens (and the anesthesiological equipment along with them to prevent mistreatment). Needless to say, I was in awe of the incredibly sophisticated operating rooms (ORs) that the facility made available to graduate students, and the occasional undergraduate volunteer, in order to benefit their understanding of treating the human body.
Some of the more advanced classrooms and ORs in the UC San Diego Center for the Future of Surgery have features which meet and often exceed the capacity of most other surgical hospitals. These features include leaded walls, negative pressure ventilation, international communication infrastructure (allowing for broadcasting of surgical operations), and an assortment of prototype medical tools and proprietary technology which, unfortunately, is why I cannot share any photos of the ORs themselves.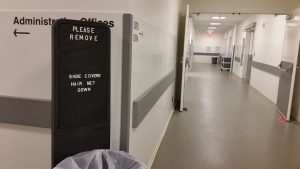 The surgery center tour and Dr. Nisen's keynote address were reason enough for me to become a huge fan of Translational Medicine Day but the goal of the conference is to give students the opportunity to meet, talk, and network with all kinds of researchers and healthcare professionals. It was clear to me that many of my peers used this chance to great effect and, as a curious and unprepared attendee, I eagerly look forward to next year's Translational Medicine Day to take full advantage of the awesome opportunity that such an event offers.