BY MAYA GOPALAKRISHNAN | SQ ONLINE WRITER | SQ ONLINE (2017-18)
Living in La Jolla, a city renowned for its beauty and everlasting sunshine, many residents may take the quality of life for granted. However, the recent outbreak of Hepatitis A in San Diego offers a reality check to its residents, as the virus makes its way into the so-called "Jewel City". On September 1st, San Diego County declared a local public health emergency due to the outbreak; reporting 561 cases, 20 deaths, and 378 hospitalizations as of November 20th [6].
The Hepatitis A virus (HAV) is transmitted through the fecal-oral route. Once the virus is ingested, HAV travels through the bloodstream until it reaches the liver. The damage done to these infected liver cells results in symptoms such as fever, nausea, and jaundice [3].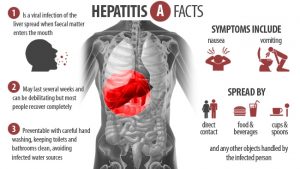 Because none of the strains of HAV in San Diego have been sequenced before the current outbreak, tracing the exact point of origin is proving difficult. After testing infected patients, the U.S. Centers for Disease Control have determined that there are thirteen different strains of the virus in San Diego [3]. The first infected person was homeless and released from care before the county was aware of the outbreak. This, along with HAV's long incubation period, allows for an infected person to spread the infection long before they start to show symptoms [3]. The problem of sanitation among the homeless population has compounded the issue: the virus typically spreads more quickly in areas with poor sanitation standards and contaminated food and water. Because it is difficult to make sure that these at-risk groups are being vaccinated, the outbreak is becoming an even larger obstacle. However, it is important to understand that not only the homeless population is at risk of infection. Illicit drug users, those in contact with homeless people, workers who handle food, and anyone using public facilities, such as restrooms, should be aware of the outbreak and be vaccinated. What may further worsen the outbreak is people choosing not to be vaccinated due to the belief that Hepatitis A is only a problem within the homeless population [2].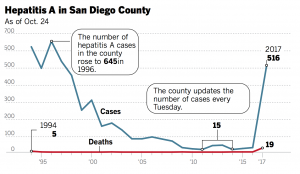 In response to such misconceptions of the epidemic, San Diego County is taking steps to educate target groups and prevent further infection with a $5.5 million immunization campaign [4]. The county has sprayed sanitizer on the streets and sidewalks, and installed public hand washing stations and portable restrooms near areas with a large infected population [4]. The county has also opened campsites with tents, sinks, and restrooms to prevent further infection within vulnerable populations. The most influential aspect of the county's efforts is making the HAV vaccine more readily available. Nurses and other healthcare professionals are offering on-site vaccinations to homeless communities throughout San Diego, having administered over 100,000 vaccines since the outbreak began in September [5]. However, due to the sudden rise in demand for the vaccine, a recent shortage has stalled the immunization effort. Manufacturers of the vaccine such as GlaxoSmithKline and VAQTA have been struggling to keep up production. As of October 13th, the state has been given permission to purchase vaccines directly from manufacturers and distribute them to those most at risk in order to combat this problem [5].
With the collaborative efforts of San Diego County and its health care professionals, the virus has been spreading at a slower rate [7]. While the current situation seems to be improving, many are disappointed with the county's slow response to sequencing the viral genome and improving sanitation efficiently [8]. The outbreak is proof that even cities known for being idyllic vacation destinations are not always proactive when it comes to disease prevention. It brings much needed attention to the lack of access to proper sanitation, particularly for the homeless. While the Jewel City is attempting to combat this unprecedented spread of HAV, this ordeal may serve as a call to action for the county of San Diego as well as its residents for prevention of future outbreaks.
UCSD students who find themselves in contact with the homeless population, work in food service, or use public restrooms and other facilities should seriously consider being vaccinated. Walk-in immunizations are offered at the Nurses Clinic in Student Health Services and are covered by UC SHIP at no cost. For students who waived UC health insurance and instead have RAFT, vaccinations cost $40. In order to be tested for Hepatitis A, order a titer through your SHS care provider or the Nurses Clinic. There is no cost with SHIP, a $4.19 charge with RAFT, and a $19.19 payment for students who wish to be billed directly to their student account. In order to prevent becoming infected, wash your hands before eating and after using the restroom, and do not share food or drinks. For more information, UCSD Student Health Care's suggestions on avoiding infection can be found here.
[hr gap="null"]
Sources: