By Julia Brown | UTS Staff Writer | SQ Online (2014-15)
How do you advance your position in relation to your peers? This question is oftentimes the most troubling and daunting question that the average twenty-something encounters, especially those who choose to continue their education beyond their bachelor's degree. Students often attempt to respond to this question by spending their time doing things such as getting involved in campus organizations, acquiring a position in a lab, and making connections with professors. Another method of standing out, entrepreneurship, is often overlooked, in no small part due to either a lack of drive to act on one's ideas or a lack of resources, or both. However, third year Uzair Mohammad can attest from his own experiences that the route is well-worth pursuing.
Mohammad was trying to butter a baked potato with limited success when he noticed that the starch of the potato (or similar compounds) could be useful in filtering water, especially in places that suffer from lack of water sanitation.3 Unlike many high school students, who might have dismissed the thought after a few moments, Mohammad decided to pursue this using a non-infectious, sugar and tea leaf-eating species of bacteria which produces a durable, nanoporous material vaguely similar to the potato starch which spawned the idea. Thus, his Biofilter was born. After having entered college, Mohammad was able to secure a lab space and continue his work on the filter.
Last year, he spoke at TEDxUCSD about his work on the technology. SQ Online caught up with him after the talk (the article can be found here), and since then, Mohammad has developed the Biofilter to the point of near-completion. The goal right now is to finish prototyping and have the filter be a viable product by this summer. "Hopefully this year [will be] the most accelerated in terms of progress," Mohammad says. "We've already started discussions with a nonprofit organization which focuses on a community in India."2
In this process of developing the Biofilter, Mohammad remarks that perhaps one of the bigger challenges he has faced is "balancing the engineering with the non-engineering" aspects of the process, including learning how to navigate the "business side of things." He credits the likes of the Moxie Center for Student Entrepreneurship at the UCSD Jacobs School of Engineering with helping him create his company.2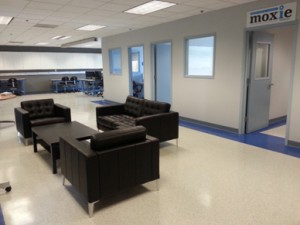 While Mohammad's story is certainly unique, the route he took is one taken by many entrepreneurs at UC San Diego. The Moxie Center, a subset of the Moxie Foundation and open to all students at UCSD, is a program located in the Jacobs School of Engineering (EBU2 333, left, and CSE B210, right) aimed at helping students become effective entrepreneurs, with programs including "seminars, workshops, mixers [with the likes of the Rady School of Management], PitchFests, open houses, poster sessions and speakers" that help students develop their ideas as well as their business skills.1 With no cost to the students, the center also provides Triton innovators with some of the resources, including space, equipment, and professional connections, they need to bring ideas such as Mohammad's Biofilter to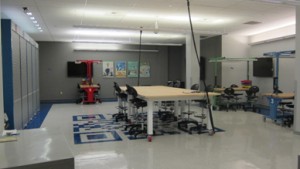 fruition.
Entrepreneurship is perhaps one of the less-pursued methods of making one's undergraduate experience memorable to grad school admissions boards in addition to oneself, yet students such as Mohammad who have an idea they want to bring to fruition have no lack of resources, despite what some may think. Because of these reasons and because of the diverse, potentially game-changing ideas such as the Biofilter that students are able to devise, perhaps more should consider going down this path.
[hr gap="0″]
Sources:
Interview with Uzair Mohammad, 11 Jan 2015