By Lawrence Liu | UTS Staff Writer | SQ Online (2014-15)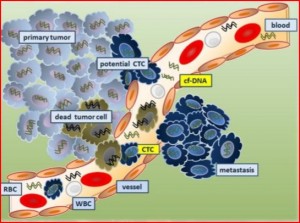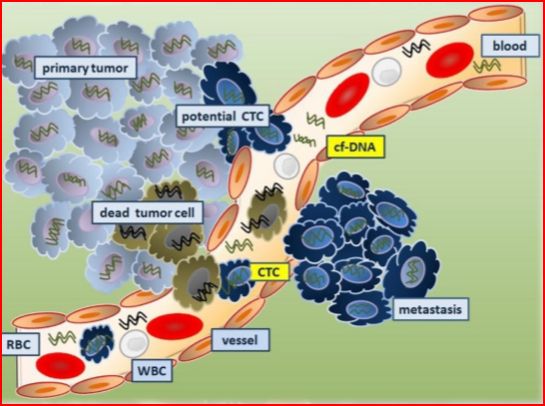 In 2012, approximately 1,640,000 patients were diagnosed with some form of cancer. Of those diagnosed, approximately 577,000 passed away. In 2013, approximately 1,660,000 patients were diagnosed with some form of cancer. Of those diagnosed, approximately 580,000 passed away. What is the significance of the collected data? While new treatments are being found for various diseases every day, treatments for cancer and tumor have not improved significantly whatsoever.
As of now, the technology to remove cancers and tumors is advancing at an incredible rate. However, many losses to cancer stem from late detection of cancerous development. It is incredibly hard to predict the stage (at a biochemical level) of a developing tumor. While it would be nice to be prescribed some over-the-counter medication, our understanding of tumor biology has not reached that level.
Recently, a new opportunity to study tumor biology has opened up. It was found that tumor cells often shed DNA or RNA into the bloodstream. Areas that come in contact with the shed DNA can ultimately develop into cancer as well. This is thought to be why patients in late stages of cancer often have multiple cancers near and far from the original cancer site. By studying and tracing where these DNA cell fragments are, we can diagnose, monitor and personalize treatment for individuals much faster.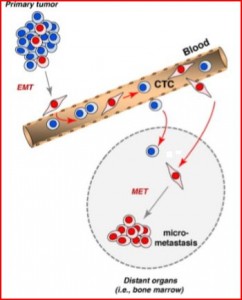 These circulating tumor cells (CTCs), however, are not easy to detect. Furthermore, some CTCs do not cause cancerous development. Figure 2 shows how a tumor can release two different types of CTC. The CTCs in red develop a mesenchymal, or ability to develop into different forms of tissue, migratory phenotype during tumor development. These basically have stem cell properties and, as shown, are able to trigger micrometastasis. The CTCs in blue do not have these stem cell properties and do not form metastases. The blue, potentially harmless CTCs are the ones that are currently detectable.
How do we find and differentiate the CTCs that matter, then? Currently, markers, or characteristics of normal biological processes and pathways, in CTCs and cell-free circulating RNA are being investigated to gain insight into each marker's cellular function. Each of these markers should confer prognosis and, when analyzed together, increase the likelihood of detecting tumor development. These will act as tracking devices to look for specific characteristics of the CTCs and help give doctors and researchers a better understanding of the type of cancer they are dealing with.
Despite advances in technology, the number of deaths due to cancer has not changed much. The discovery of CTCs can act as a road to studying tumor biology. What is now left is to focus on locating CTCs and utilizing their markers as a road map to prognosticate tumor development. Currently, one of our very own UC San Diego research labs, headed by Principal Investigator Dr. Pradipta Ghosh, is investigating these biological markers. Hopefully, with enough time and effort, we can move from tracking CTCs to utilizing them in developing treatments catered to specific patients.