By Anna Alvarado | UTS Staff Writer | SQ Online (2013-14)
It is that time of the year once again. Fall quarter is under way and for many UCSD Biology students, this quarter is their first taste of the challenges of higher-level education. For others its a time to shed off the summer and transition back into their regular routines of balancing school, a social life and extracurricular activities.
Regardless of whether this fall is the first or one of the last, students continue to work and make sure that they are on track to graduate while taking the steps to achieve their future career goals.
The UCSD Division of Biology offers many resources and helpful advisors that help light a clearer path towards graduation and beyond. One such resource is Hermila Torres, the manager for the Center for Discovering Opportunities in Biological Sciences (DO/Bio) within the Division of Biological Sciences.
Torres provides valuable insight into what factors to consider as students continue on their college careers. Referring to a variety of online resources available on the Division of Biological Sciences website, including course information about Biology classes offered and tentative schedules of these classes for the upcoming academic year, she encourages all students to look ahead and formulate their four-year plan. These templates are available online and are general guidelines for what to take during the course of one's college career.
"It is important not to overload your schedule," said Torres, about planning classes. "You want to satisfy all of your requirements but also take into account activities, research and/or studying abroad opportunities. Make sure that you plan quality quarters that you can do well in academically along with everything else."
She insists that students plan quarters that satisfy requirements but are also manageable and compatible to their extracurricular schedule.
Mrs. Torres also offered plenty of advice for those who are interested in being involved in research or other opportunities. The DO/Bio center "educates, enriches and empowers" students by equipping them with the necessary skills and resources to succeed. This is achieved through info sessions and programs, like the Undergraduate Research Program ( under the "Experiential Learning Opportunities" tab), that connects students to faculty members and provides opportunities outside regular class curriculum.
Mrs. Torres believes in exposing students to everything the Biological Sciences have to offer.
"Students often think 'if I do X, Y, Z classes then I will get into medical school. This is not always the case," said Mrs. Torres. "It is important to have backup plans for your careers. There are transferable skills you will learn in your undergraduate career that will help prepare you for other jobs and opportunities in the field of biology."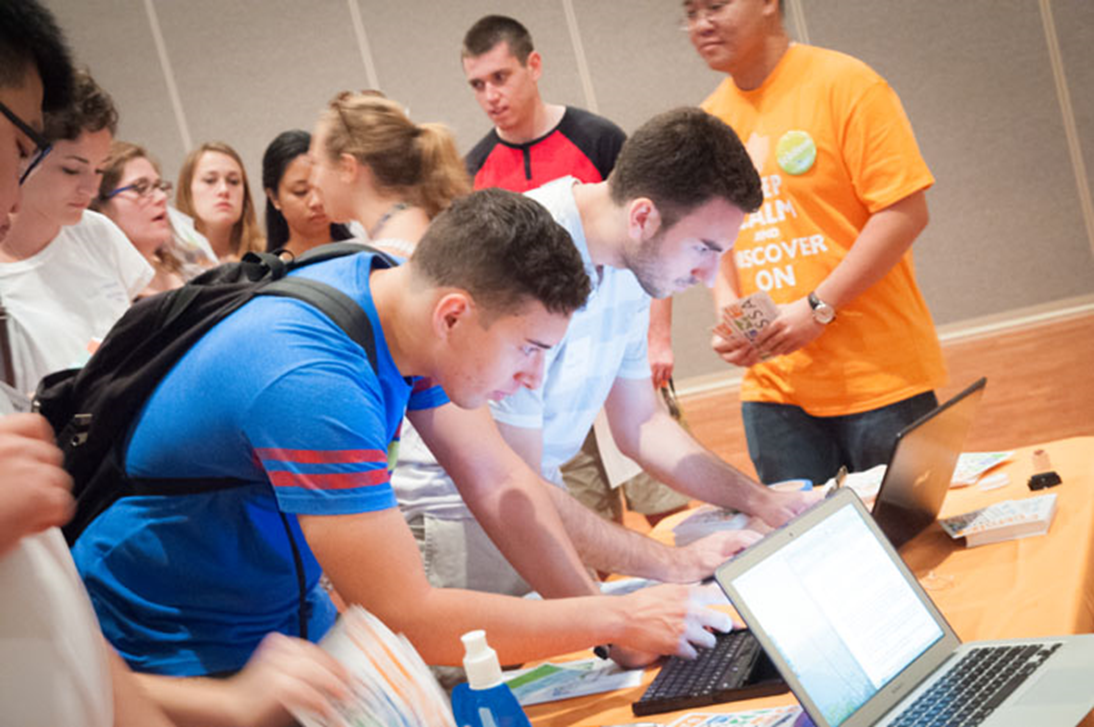 Mrs. Torres encourages students to be proactive in their education.
"Be open and flexible to the opportunities available to you," she said. "Research faculty members that interest you. Read their journals and email them for an opportunity. Don't be scared to take entry-level positions. Volunteering in a lab is a great way to put your foot in the door and see if research is something you want to undertake."
The ability to encourage and educate students is the very reason why Mrs. Torres enjoys working at the DO/Bio Center so much.
"Being a part of a division that is open to creating new and innovating things, [and] being part of a team that helps create new resources to meet our students' needs is what I really love about working in the Division of Biological Sciences," said Torres.
Helpful sites to visit:
Biological Sciences Class Offering