Hurricane Harvey, Cyclone Idai, the World Trade Center bombing, the Beirut explosion. These are all examples of both natural and man-made disasters that have killed and injured thousands. A disaster is defined as a sudden catastrophic event that comes with great destruction to many lives, making recovery extremely difficult.
Understanding the pain many face during and after a disaster, creating a branch of medicine dedicated to helping and healing those affected was absolutely essential. In the United States, the field of disaster medicine was established in the 1980s. The first-ever textbook on disaster training was written later in 1990. Disaster medicine encompasses several specialties such as emergency management, public health, and humanitarian services. Ideally, no disaster medicine physician would want to practice to the full extent of their specialty; however, they must always be prepared for a catastrophe to occur at any time.
The disaster life cycle includes three stages: preparedness, response, and recovery. During the preparedness phase, planning takes place before a disaster event occurs. This includes training of medical professionals, screening for volunteers, and educating the public about survival tactics. The preparedness stage of the cycle is essential because unfortunate events, especially manmade disasters, can be sudden and unexpected, leaving little time for the public to react. Therefore, it is of utmost importance for medical professionals to be prepared to act. Tragic examples of unforeseen manmade disasters include the World Trade Center bombing and the recent Beirut explosion. In such situations, providing the best response requires the medical front to be fully equipped with the necessary tools and personnel.
Second, the response phase of the disaster life cycle occurs at the onset of the event. In this phase, all resources are poured into saving lives and preventing further losses. "Disaster relief" is another way of referring to this phase, which is, unfortunately, the part of the disaster life cycle that gets the most attention worldwide. Given that the response phase relies largely on the preparedness phase, it is important to spread awareness about what goes into being ready for a disaster. Action cannot take place without preparation beforehand.
The last phase of the life cycle is the recovery phase, which takes place after the disaster has run its course and the damage has been assessed. This stage requires consistent care and funding for people in need. Many victims may have been displaced from their homes, grieving a loss in the family, or have lost a source of income. During this phase, the actions taken by medical professionals are directed towards bettering the situations of individuals and hopefully bringing back their health to a pre-disaster state. This is also an integral part of the disaster life cycle, as measures are taken not only to heal people and communities from the recent event but also to minimize future disaster risk by helping them prepare for the unforeseen.
The importance of disaster medicine lies not only in the abilities of physicians and rescue teams to act when a catastrophic event takes place, but also in preparation for the unforeseen and the long recovery process. According to Scott, et al., it is unfortunate that "disaster medicine remains a peripheral component of traditional medical education in the United States (US) and is a rarely studied topic in the medical literature." Although training in disaster medicine is implemented in many universities and hospitals, such as UC San Diego, the field can certainly use more recognition and interest.
According to Cordi and Cascardo, a study in 2009 revealed that out of 523 medical students, only 17.2% and 13.4% felt that they received adequate education on natural disasters and radiologic events, incidents that produce large amounts of radiation. Approximately 85% of the students were unsure about who to contact in the case of a disaster, and only 2% of the students were volunteering with the Medical Reserve Corps. The Medical Reserve Corps plays an important role in the proper health and safety of our communities. The organization is open to both volunteer medical professionals and volunteers without any medical background as they collectively prepare for natural disasters and emergencies. Cordi and Cascardo further mention that there is a "worrisome gap in disaster medical education and training", which is why awareness of disaster medicine is so critical. The immense pain and suffering catastrophic events bring upon many communities is why more medical education and training on disasters is so desperately needed.
Catastrophic events come in many forms–some are natural disasters, some are man-made attacks, and some are pandemics. Disaster medicine is the branch of healthcare that works tirelessly to prepare, help, and heal when the most unfortunate happens. It takes many medical professionals and volunteers to overcome a disaster. You can help by volunteering with the Medical Reserve Corps to prepare for future disasters, donating essentials during a disaster, and giving your support to those in recovery.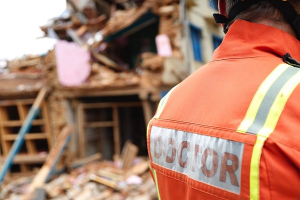 ---
Sources:
https://www.umsystem.edu/ums/fa/management/records/disaster-guide-disaster
https://www.emra.org/books/fellowship-guide-book/6-disaster-medicine/#:~:text=In%20the%201980s%2C%20the%20slowly,formerly%20known%20as%20disaster%20management).
https://www.sciencedirect.com/science/article/abs/pii/S0736467909008142
https://www.aapsus.org/wp-content/uploads/ajcmfive.pdf
https://mrc.hhs.gov/pageviewfldr/About