By Briana Kusuma | UTS Staff Writer | SQ Online (2014-15)
During the summer time, with more people traveling, there are unfortunately many opportunities for illnesses to be brought into the United States from other countries. The introduction of mosquito-borne diseases into the U.S. is not new; diseases such as West Nile virus and malaria were introduced to the United States decades ago. However, even with a rather low prevalence of mosquito-borne diseases in the United States compared to tropical areas – such as Southeast Asia and Central Africa – and heightened public awareness, there are still some diseases that manage to enter the country. One recent virus that has managed to make it into the U.S. and has been spreading throughout the nation since is called the chikungunya virus.
What is the chikungunya virus?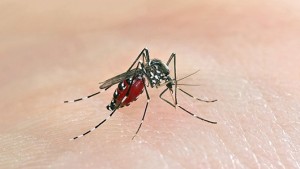 The chikungunya virus is transmitted from infected mosquitoes to people and causes severe joint pain, muscle pain, bleeding gums and fevers, among other symptoms. No known cure or vaccine currently exists for chikungunya. Though individuals usually recover within seven to 10 days, the virus's symptoms can have long-lasting effects, as some patients develop arthritis, a condition characterized by severe joint pain, months after all other virus symptoms have passed. The mosquito that spreads this virus is Aedes albopictus, or the Asian tiger mosquito. Named after its striped body, the Asian tiger mosquito is easily infected by one strain of the chikungunya virus. What makes this species even more dangerous is that it not only feeds during the day, but also typically lives around humans in contrast to the wetlands that other mosquito species usually dwell in.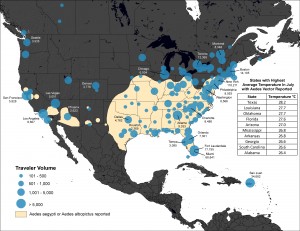 While not currently classified as a threat in the United States, the virus has reached epidemic proportions in tropical, hot regions where mosquito-borne diseases are prevalent: Central and South Africa, India and Southeast Asia. Unfortunately, it has not been contained in those regions and has spread via infected travelers. By 2007, the virus had spread to Italy and infected around 200 individuals.

In the Americas, reports of chikungunya cases began in the Caribbean at the end of last year. These numbers have been increasing in the United States ever since, with 31 states reporting appearances of the virus. However, it has only been brought up in the American news due to a report that a man in Florida had acquired the virus without ever having traveled out of the country. As the number of chikungunya-infected patients rises in the States, with the risk of the virus becoming localized or spread by mosquitoes within the country instead of brought in, experts have grown increasingly concerned.
Although there is not yet a preventative vaccine for the disease, there are general precautions against mosquitoes that health officials advise the public to take:
Wear long-sleeved clothing to minimize the amount of exposed skin that mosquitoes can bite.
Use bug spray or mosquito-specific spray when outdoors. If wearing sunscreen, apply repellent on top.
Get rid of stagnant pools of water, such as plants or dishes, no matter how small. Mosquitoes prefer lingering around and laying eggs in stagnant water.
Use screens on open windows or around beds to prevent the mosquitoes from coming in and mosquito bites during sleep.
Though chikungunya is not usually lethal, it is nevertheless a mosquito-born virus with no known vaccine or cure. With a reputation of bringing patients severe joint pain and discomfort, chikungunya continues to spread throughout the United States, especially in the heat of the summer, and there is a possibility of it becoming a widespread outbreak in the country, much like West Nile did back in 2012. As scientists grow increasingly concerned, it is important for the public to be aware of this virus and take general precautions to prevent chikungunya from spreading further.
[hr gap="0″]
Sources:
Centers for Disease Control and Prevention. (n.d.). Chikungunya. Centers for Disease Control and Prevention. Retrieved from http://www.cdc.gov/chikungunya/
Centers for Disease Control and Prevention. (n.d.). Chikungunya: Information for the general public. Centers for Disease Control and Prevention. Retrieved from http://www.cdc.gov/chikungunya/pdfs/CHIKV_FACT%20SHEET_CDC_General%20Public_cleared.pdf
Centers for Disease Control and Prevention. (n.d.). Elimination of Malaria in the United States (1947 – 1951). Centers for Disease Control and Prevention. Retrieved from http://www.cdc.gov/malaria/about/history/elimination_us.html
Centers for Disease Control and Prevention. (2014, July 17). First Chikungunya case acquired in the United States reported in Florida. Centers for Disease Control and Prevention. Retrieved from http://www.cdc.gov/media/releases/2014/p0717-chikungunya.html
Centers for Disease Control and Prevention. (n.d.). West Nile Virus. Centers for Disease Control and Prevention. Retrieved from http://www.cdc.gov/westnile/index.html
Falco, Miriam & Val Willingham. (2014, July 21). "Debilitating case of mosquito-borne chikungunya reported in the U.S." CNN Health. Retrieved from http://www.cnn.com/2014/07/17/health/mosquito-disease-chikungunya-u-s-/
Ganu, M.A. & A.S. Ganu. (2011, February). Post-chikungunya chronic arthritis–our experience with DMARDs over two year follow up. J Assoc Physicians India, 83-86. Retrieved from http://www.ncbi.nlm.nih.gov/pubmed/21751641
Government of South Australia. (n.d.). Chikungunya virus – symptoms, treatment, and prevention. SA Health. Retrieved from http://www.sahealth.sa.gov.au/wps/wcm/connect/public+content/sa+health+internet/health+topics/health+conditions+prevention+and+treatment/infectious+diseases/chikungunya+virus/chikungunya+virus+-+symptoms+treatment+and+prevention
Pan American Health Organization. (2014, April). Chikungunya. Pan American Health Organization. Retrieved from http://www.paho.org/hq/index.php?option=com_content&view=article&id=9468%3Achikungunya&catid=6648%3Afact-sheets&Itemid=40721&lang=en
Public Health England. (n.d.). Background information on Chikungunya. Public Health England. Retrieved from http://www.hpa.org.uk/Topics/InfectiousDiseases/InfectionsAZ/Chikungunya/GeneralInformation/chikInformationaboutChikungunya
Rezza, G, et al. (2007, December 1). Infection with chinkungunya virus in Italy: an outbreak in a temperate region. Lancet, 1840-1846. Retrieved from http://www.ncbi.nlm.nih.gov/pubmed/18061059
Sejvar, James. (2003). West Nile Virus: A Historical Overview. The Oschner Journal, 6-10. Retrieved from http://www.ncbi.nlm.nih.gov/pmc/articles/PMC3111838/
Talawar, A.S. & Pujar, H.S. (2010, December). An Outbreak of Chikungunya Epidemic in South India-Karnataka. IJRRAS, 229-234. Retrieved from http://www.arpapress.com/Volumes/Vol5Issue3/IJRRAS_5_3_04.pdf
Tsetsarkin, Konstantin A, et al. (2007, December 7.). A Single Mutation in Chinkungunya Virus Affects Vector Specificity and Epidemic Potential. PLoS Pathogens. Retrieved from http://www.plospathogens.org/article/info:doi/10.1371/journal.ppat.0030201
World Health Organization. (n.d.). Chikungunya. World Health Organization. Retrieved from http://www.who.int/mediacentre/factsheets/fs327/en/
Image Sources:
Cover Image with health workers: http://assets.vice.com/content-images/contentimage/151087/chikungunya-vieu.jpg
Statistics infographic: http://currents.plos.org/outbreaks/files/2014/05/Chikungunya_US_July_140516.jpg