CHELSEA CHANG | BLOGGER | SQ ONLINE (2014—15)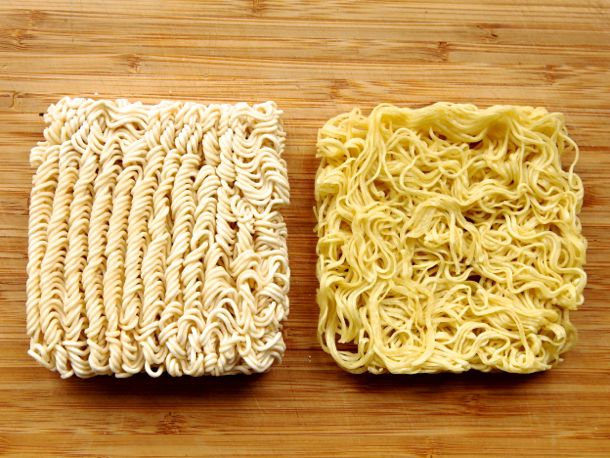 Are you tired of school? Are you stressed and craving candy for lunch or sleeping for two hours a day? Hang in there, friends! Three more weeks of school and we will be on spring break. If you are under pressure, I bet it's tempting to cope with all of it with binge eating and procrastination. Today, we'll be looking at a popular all-nighter food choice: the king of instant foods, ramen.
Instant noodles are one of the most condemned yet popular meal choices. They come in thousands of varieties and are not only versatile but also convenient, cheap, and tasty. What exactly is unhealthy about ramen? Is it the noodles, the seasoning, the dried vegetables, or the sodium? Let us look at these components with a nutritional viewpoint.
Before we begin, let me give you a bit of background about instant noodles. Invented by Taiwanese-Japanese businessman Momofuku Ando and first marketed in 1958, instant noodles were considered a luxury item for their novelty and shelf life. Surprisingly, they were sold six times more expensive than fresh noodles when they first became popular!¹ They became so trendy that in a 2000 poll, Japan voted ramen the best Japanese invention of the 20th century². According to the World Instant Noodles Association, China, Indonesia, Japan, Vietnam, India, USA, South Korea, Thailand, Philippines, and Brazil are the top 10 consumers of instant noodles. Sweden, Denmark, Finland, and Hungary have the lowest demand for instant noodles at 200 times less than the US consumption³.
Now, it's time for our main course. Boil your water and prepare your styrofoam cup – we are about to look at the things that make instant noodles, instantly delicious, instantly risky, and perhaps instantly lifesaving.
Dry Noodles, Packaged Seasonings, & Preservatives:
These are the components of our beloved cheap and easy college dinner (or lunch or breakfast) ramen. According to Nissin Food, ramen noodles are mainly made of enriched flour, salt, water, and a number of additives, including tertiary butylhydroquinone (TBHQ), a petroleum derivative used to preserve processed foods. Preservatives are designed to slow bacterial growth, According to the Toxicology Data Network, TBHQ human health effects include chronic neurotoxic effects and vision disturbances. Preservatives can be found in Chicken McNuggets, Pop-Tarts, M&M's, etc. TBHQ is composed in part of a grouping of four carbon atoms called a butyl group. Many harmless substances, such as butter, also contain butyl. TBHQ is not harmful at the levels that are permitted in foods. For example, the FDA limit – 0.02 percent of total oil or fat –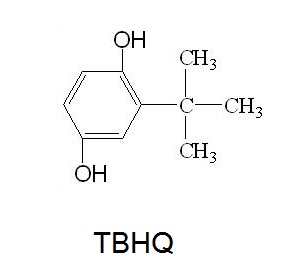 means that you'd have to eat more than 11 pounds of Chicken McNuggets to ingest one gram of TBHQ – and that would have to be in one meal since it does not build up in the body over time. So don't be too scared of the preservative in instant noodles. As long as you don't inhale dozens of packs, the risk is not great.
Health Concerns
Aside from preservatives, the main health concern about instant noodles is the high sodium level. The FDA recommends that the average adult consume no more than 2,300 mg of salt per day. A pack of Top Ramen contains more than half of this. Monosodium glutamate (MSG), the main ingredient of ramen soup base and flavor enhancer, is the chief element that makes ramen taste umami ("tasty" in Japanese). MSG has the stigma of being the "silent killer" in many foods that we enjoy, in truth, it is a naturally occurring sodium salt of glutamic acid that is only harmful when over-consumed. In a NY Times Article, it is reported that scientists celebrating the discovery of the glutamate flavor at the University of Toronto in 2008 stated that "Just like salt and sugar, it (MSG) exists in nature, it tastes good at normal levels, but large amounts at high concentrations taste strange and aren't that good for you." There is a lot of confusion and different opinions on the health concerns of MSG, in this attached YouTube video "Is MSG Bad for You?", MSG myths are debunked. In conclusion, despite MSG's bad reputation, it is perfectly safe for the majority of people.
Global Influence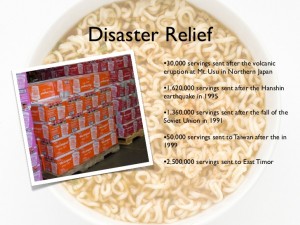 Despite their potential to cause cardiovascular disease if over-consumed, instant noodles have contributed to the well-being of the world. Invented in post-WWII Japan, instant ramen was designed to feed thousands of victims who had no food⁷. It has since become the survival food of the 20th century and beyond. Instant noodles have served their purpose by feeding countless starving children, moms, workers, travelers, campers, people who are ill-equipped to cook, and, of course, you.
Reference:
http://www.feingold.org/Research/bht.php
http://www.momj47.com/pdf/MSG.pdf
http://www.nytimes.com/2008/08/26/health/nutrition/26nutr.html?_r=0
http://www.nytimes.com/2011/03/20/weekinreview/20noodles.html
Image:
http://www.seriouseats.com/images/2013/09/20130910-ramen-week-style-guide-ingredients-instant-noodle.jpg
http://www.foodnetworksolution.com/uploaded/TBHQ.jpg
http://image.slidesharecdn.com/instantramen-pawelszymczykowski-110821124929-phpapp02/95/instant-ramen-pawel-szymczykowski-12-728.jpg?cb=1313949679