Robot Rock
By Vaishali Talwar | Staff Writer | SQ Online (2013-14)
A few years ago, Lauren Mejia, a first-year biochemistry student, participated in the FTC (First Robotics Challenge) Championships in Los Angeles, San Diego, and Las Vegas. Her team was the first from her high school to participate in the robotics challenge of this championship.
"We were a bunch of 25 students, with one robot kit," Mejia said, "After a month just ten of us were left. Our teachers were really supportive but they couldn't do much because we were the first team to enter such a competition."
In order to bolster their capabilities, the team decided to teach themselves. They learned how to code and figure out the dynamics. They finally managed to design and engineer a robot, which successfully competed in the FTC challenge in Los Angeles.
With their hard work and persistence, Lauren's team was able to place eighth in the championship. And when their team entered the contest the next year, they beat out most of their competition to come in second in the entire championship.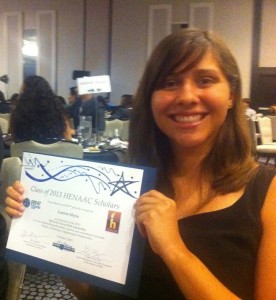 Lauren was one of the few women on this high achieving robotics team. For her achievements, she was awarded the very prestigious and competitive HENAAC NAVSEA/SPAWAR scholarship last year as an incoming freshman at Revelle College.
The NAVSEA/SPAWAR Scholarship is a 4-year renewable $10,000 scholarship, funded by the Navy in partnership with an organization known as Great Minds in STEM (Science, Technology Engineering and Math Majors). It is awarded to an incoming freshman attending a Hispanic Serving Institution and pursuing a major in STEM.
"I'm looking forward to the internship the scholarship has to offer," Mejia said. "I get to work with the Navy."
The NAVSEA scholarship gives its recipients the opportunity to apply for an employment/internship program starting in the summer. NAVSEA, the largest of the Navy's five system commands, is responsible for designing and maintaining the nation's fleet of ships and submarines. The students in their employment program receive mentorship and technical work experience.
Lauren's interest in the sciences was evident at a young age. She was part of the Math and Science Academy at Monrovia High School, graduating in the top 5 percent of her class. Lauren enjoyed her time at the academy because it was filled with students who, like her, were genuinely interested in the sciences.
This philosophy has followed Lauren to UC San Diego where she tries to find something interesting in all her courses. One of her favorite subjects is the much-dreaded organic chemistry.
"You suffer in this course first, but as long as you have a good study group you'll be fine," Mejia said. "Because then you're suffering together, and you help each other out.
Organic chemistry and biology are integral components of the MCAT, an exam which will play a significant role in Lauren's future.
"I want to be a doctor, like half of this school," she said laughingly. "But jokes apart, I really want to help people."
Academics aside, Lauren loves outdoor activities. She's part of a new club at UCSD, known as the Venture Crew. This club hopes to organize outdoor events such as hiking and bonfires as well as community service events. Lauren is also a part of Triton TV. Another thing she's interested in is photography. "La Jolla is beautiful, full of scenic spots," she said.
Juggling extra curricular activities with a rigorous academic schedule is not easy now, and it could not have been easy in high school either. Lauren credits her parents for being extremely supportive of her and whatever she did.
"They just wanted me to try my best. They told me that they were confident that I'd figure out what I wanted to do," said Mejia. "They want me to pursue goals I was happy pursuing and do what I love."