By Olivia Meyer | Blogger | SQ Online (2014-15)
June 24, 1 a.m.
Trips do not plan themselves, which to me is a complete surprise.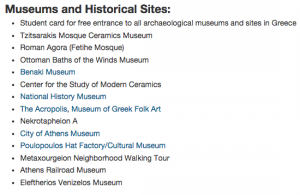 My parents toted me and my sister around Europe; the best sites in the most beautiful places laid themselves out in front of me. I had a similar experience during my freshman year Global Seminar experience in Istanbul, which provided transportation, room and board and prepaid guided tours. (Example of this year's Athens trip →)
Fast forward to 2014 and I'm drowning, losing my breath to pages of flights and railroads and tourist destinations and no one is holding my hand. To be fair, this situation did not plop itself onto the first few weeks of my summer. In addition to applying late to my Opportunities Abroad Program (OAP) in Australia, I let the planning fall through the cracks. All I knew was that I wanted to explore and would arrive two weeks early to do it. Here is a quick look at my current itinerary:
July 2: arrive
July 14—18: orientation in Cairns
July 28: school begins
At this point, I have secured housing at the University of Sydney beginning July 2, but aside from that, I'm lost. Every time I look up a flight, there are at least a hundred more to compare it to – endless sets of time tables, fares and maps for trains, buses and alternative transportation, which each have unique stops and routes in cities I should be exploring. Instead of deciding, I'm shaking my head in disbelief.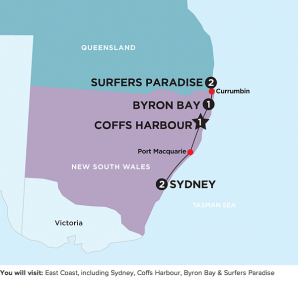 Exploring is no fun if you don't know where you're going, and with nothing to look forward to, I'm bogged down by stress instead of excitement. To be honest, I'm scared.
I guess it's time to call it a night.
June 24, 2:08 p.m.
Student Travel Agency (STA) travel saved me today. I enlisted a personal travel agent to help me book guided tours (through Contiki Travel Agency) who also booked my transportation and hostels using student discount rates. Check out my itinerary now:
June 2: arrive
July 5—12 : guided tour up the coast from Sydney to Cairns
July 12: explore Brisbane and fly to Cairns
July 13: tour Cairns and the surrounding rainforests and beaches
July 14—18: orientation
So, now I can breathe. Now I can start anticipating my trip (in a good way).
If you decide to go abroad and you've already planned your own vacation, ignore my preaching. If not, give yourself the time and funds to make the most of your experience. Don't waste a perfect day or week or month because it's too hard to plan, and don't spend the weeks before in the trenches of stress instead of enjoying the anticipation.
Subsequent lesson: if you're travelling alone, it's probably easier to book tours or enlist some help to curb the stress.
–Your Study Abroad Guinea Pig