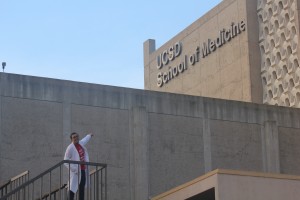 By Rahul Nachnani | Blogger | SQ Online (2013-14)
Many times I have been told to write down what I feel. Where? In a journal somewhere. When? Mostly in the mornings, or when I'm feeling particularly emotional. How? Just write about anything and everything that comes into my mind, and as those thoughts leave my mind, what comes in to replace them.
Why?
There can be many reasons, but for pre-meds there is only one: to not forget.
What do I mean by this? We forget a lot of things. Those stories about great ideas coming to us in the shower or right before we sleep, but forgetting them right after we step out or wake up are all true for a reason. We all forget our great ideas, and while it may seem trivial to try and remember everything through writing, the best way to remember an idea is to write it down.
We as, pre-meds, must remember that in our third or fourth year of undergrad, we will have to put our experiences, ideas, and observations up to the test of the Medical School Personal Statement. More information on this can be found here: https://www.aamc.org/students/applying/amcas/how_to_apply/130658/essays.html.
A short summary is that the prompt is one prompt is the same for everyone (nothing like the UC or CommonApp applications) at 5300 characters about why you want to go to medical school. Every comma, period, space, and letter counts to try and convey to the admissions directors that you are worth a spot at their medical school. Therefore, if you forget how to express an incredible feeling relating to why you want to go to medical school, you lose up to several hundred characters in your personal statement.
Why would you want to write about something for an application that is four years away? Well, think about it in terms of what made you want to think about medical school in the first place. Was it a single experience that you can remember perfectly? If it was, then it will help to verbalize how that experience shapes your life in undergrad and how it affects decisions related to your career. Saving this information is vital for the fateful days/weeks/months in your third year that you decide to write your personal statement. If what made you want to think about medical school was not a single experience, then don't worry. You're like most people. Most people (including myself) gradually started thinking about medical school and then decided it was for them. This process happened for a reason, and how you write about this reason is one of the main factors of whether you will get into the medical school you want to.
That's why you want to start writing for an application that is four years away. Do not wait. Your thoughts of how you feel about an experience cannot be regained after you forget them. Are you willing to sacrifice those important characters on your personal statement later because of laziness now?
Hopefully then, you will be