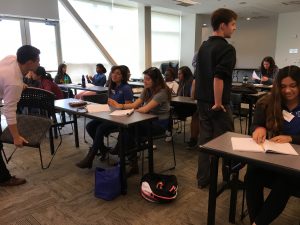 The Ocean Discovery Institute (ODI) is an organization that provides science courses, research experiences, and career development opportunities to students in the City Heights neighborhood of San Diego. City Heights is a historically underserved area of San Diego with many of its students coming from low-income backgrounds. ODI gives these students the resources to thrive academically, and ODI students have an exponentially higher college graduation rate than the average low-income student. Our committee has partnered with ODI to help provide these students with a quality science education and to inspire them to pursue a career in STEM. We plan to maintain this partnership through future projects in the hopes that our mentorship and resources will continue to lead these students to successful futures in science.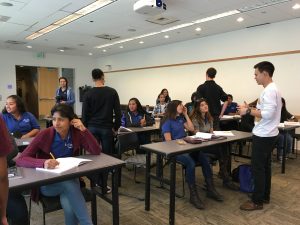 In the 2015-2016 school year, we hosted a workshop about reading scientific manuscripts to help students find science more approachable, and we partnered with UC San Diego faculty to advise the students about pathways to careers in science.
With one project in the summer and one in the next spring, this partnership in the 2016-2017 school year turned its focus towards scientific communication. Members across Saltman Quarterly worked closely with students to develop their public speaking skills, presentation organization skills, and overall confidence in their ability to present scientific work.